the moment i saw the Sony Cybershot T2, i super fell in love with it na! imagine, 8.1 megapixels plus a 4GB internal memory! hay, i've always wanted to buy it but i wasn't able to raise enough cash for it. it start
ed at around Php 25k-30K din ata about dec '07 pa. but just last month, i saw it in Php 15k na sa malls so i've decided to buy one kanina using my dad'
s credit card, but noooo!!! it'
s not a
vailable anymore 'coz it's phased out na raw. argh. so
ny releases new series daw kasi every 6 m
onths, so t
hose i've seen last mont
h were probably the last few s
tocks available nalang.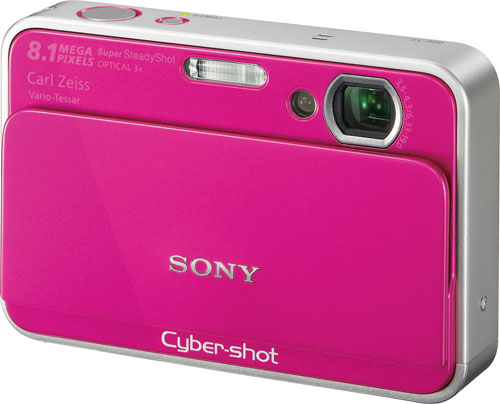 so i tried to let it go na. then in my search for digicams, i saw
the new Cybershot T series released by Sony just last month. gosh, i think i got
even more confused with what to buy na.
haha! the new T series is a whole lot better! and can i just
say...a whole lot expensive! well, of course, Sony's prices are always high on the 1st f
ew
months of the product in the market, but great price drops are effective on the last few months before they release a new series.
so here's what got my attention at first. it
was
offe
red to me by several salesmen. it's the Sony Cybershot DSC-T77.
it's not available in hot pi
nk. but what i really love about this is it's 10.1 megapixels and it's so thin, just 15mm and has 3" wide touch screen. plus, it has paint and slideshow w/ music function. it costs Php 25,999 and where will i get cash that much? if i'll use credit card and pay it
for 12 months, gawd, it will cost me more than Php 2K a month. well it's ok for me but i don't like the fact that when time come
s that this cam's price drops, i'll still be paying its price when it first entered the market. i think it won't be sulit because those who will get this cam aft
er a few months will pay cheaper nalang as compared to what i'll be paying if i'll
get it now.
so i thought, i was already decided that i'll just wait a few months before i buy this cam. but no!!! one of the salesman has mentioned about Sony Cybershot DSC T700, and it confused me even more! huhu.
so when i got home, i did a reasearch about it. it's actually the evolution of T2. it also has a built-in 4GB memory w/ expandable memory card slot. from 8 MP, it evolved into 10.1 MP! and it's even thinner than T2, just 16.4mm. it's also better than T77 since it has 3.5" wide touch screen! gawd i soo love it even more! but hello, the price is Php 30,999. again, where will i get that much?!? it will cost me almost Php 2600 every month in a year! and again, i don't wanna buy it in its most expensive price because i know its price will drop eventually, if only i could wait patiently. haha!
but then, i saw an online store selling all the Sony Cybershot cameras for super cheaper prices! it even includes a 2GB memory stick! look at this. this is how much cheaper it will cost me if i'll buy a cam in cash, from the online store.
DSC-T2: Php 13,990 (mall price: P15K) --> they still have stocks even if it's already phased out
DSC-T77: Php 18,500 (mall price: P26K) --> hello, super big price difference!
DSC-T700: Php 22,500 (mall price: P31K) --> even bigger price difference!
hmm so i think, i'll be getting a T700 na. but i still have to save more. i think i'll be able to buy it after Christmas pa. hopefully, the online store won't run out of stocks of this model, or else, i will be super depressed na talaga! huhu. and hopefully, mall price drops na so i can use credit card as another option if i can't raise enough cash. hmm but i hope the prices from the online store drops also. haha! waaah i really want it na! i want to have it before everyone around me gets to have one. haha!
so...help me Lord!=)